Dear Colleagues,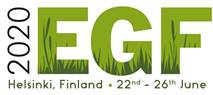 The spread of corona virus and the procedures taken by European countries have forced the local organizers to consider postponing or cancellation of EGF2020 General Meeting in Helsinki. The organizing committee has been contacted by participants who are facing  problems in the registration to General Meeting. Due to travel restrictions and uncertainty on the length of the corona virus epidemic, they are not been allowed to proceed with the registration.
Due to this unexpected situation, the local organizers have agreed together with the EGF Executive Committee to postpone the EGF2020 General Meeting to October 19th to 22nd. Majority of the keynote speakers have confirmed being able to participate the meeting in those days.
The EGF2020 proceedings is almost ready and we will finalize editing it into an electric form. Therefore, your valuable scientific contribution will be published in any circumstances. The final decision on how we proceed with arrangements will be done in June as it is expected that the corona virus will peak in Finland in the second week of May.
We will inform you within two or three weeks about the new dates of early bird registration as well as procedure how to cancel your participation if the new dates do not suit your schedule. Please also follow our web-site www.egf2020.fi for updated information.
Thank you for your understanding.
Sincerely yours,
Mervi Seppänen
EGF, president